Source – financialpost.com
"..In all of this country no region is aging faster than Atlantic Canada…Last year over 22,000 more Canadians arrived in Atlantic Canada from other provinces than left it, writes RBC economist Carrie Freestone in a report this week…But it wasn't just Canadians moving to the maritimes. Freestone says 46% of the new residents who came to the region came from outside Canada"
Why Atlantic Canada's population boom may just be getting started
Just in time because in all of this country no region is aging faster
Pamela Heaven, May 27, 2022
For decades more people left Atlantic Canada than came in.
Migration began to pick in 2016, but it was during the COVID-19 pandemic, when Canadians, attracted by low case counts and more affordable housing, really started looking east.
Last year over 22,000 more Canadians arrived in Atlantic Canada from other provinces than left it, writes RBC economist Carrie Freestone in a report this week. The interprovincial migration in 2021 was 40% higher than seen in 2016 to 2020 combined.
But it wasn't just Canadians moving to the maritimes. Freestone says 46% of the new residents who came to the region came from outside Canada.
The pandemic rush east from other provinces is expected to slow as restrictions lift — if it hasn't already — but this surge in international
migration is expected to continue.
"If Ottawa's aggressive new immigration targets are met, we could reasonably expect an additional 62,000 new international migrants to arrive in Atlantic Canada within the next three years, boosting the size of the local population by 4%," said Freestone.
By 2030 the wave of migrants could push the population up by 10%.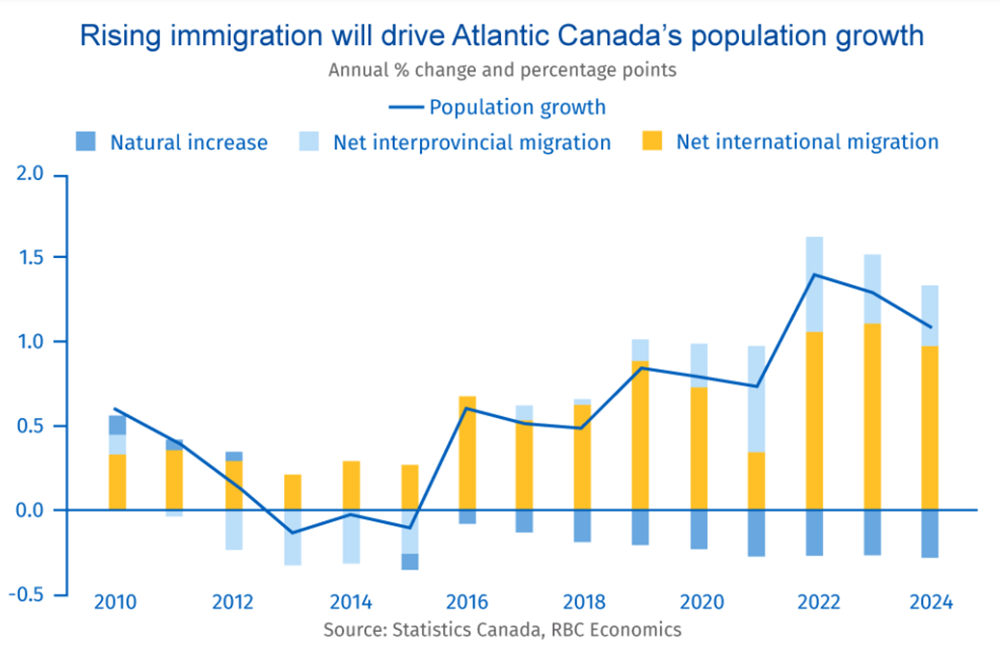 That would be much-needed boon for the economy, because in all of this country no region is aging faster than Atlantic Canada.
The share of the population here aged 65 and older is above 22%, compared to 19% Canada-wide. By 2030 that share will rise to 27%, compared to 22% nationally, says the report.
Record migration will help fill vacant jobs and boost regional industries.
Freestone said Atlantic Canada's immigrants, mostly from Asia and West Africa, are younger and many are skilled workers and international graduates.
But it also brings challenges.
Housing affordability is a big one. During the pandemic, Halifax trailed only Kelowna and Oshawa as Canada's fastest growing cities. Home prices soared 27% and housing affordability worsened by the most on record.
But Freestone says the gains outweigh these challenges.
Home prices in Halifax in 2021 were still 46% lower than in Ontario; in Moncton, prices were 69% lower. And there is more room here to build.
"Higher wage growth, consumer spending, and government revenues will be a net positive for the region alongside broader diversity," said Freestone.
https://financialpost.com/executive/executive-summary/posthaste-why-atlantic-canadas-population-boom-may-just-be-getting-started