Source –
"…Across the country, Quebec and Atlantic Canada are predicted to experience the largest increases in recreational property prices at 15 per cent…Atlantic Canada, Prices, on an aggregate basis, are expected to increase 15 per cent to $272,550 for a single family home compared with a 2021 year-over-year increase of 24.1 per cent. In 2021, the price of coveted family waterfront properties rose 39.3 per cent to $333,000"
Expect a hot, hot, hot real estate season in cottage country
Royal LePage survey predicts double-digit price increases for recreational homes
Gigi Suhanic, Mar 31, 2022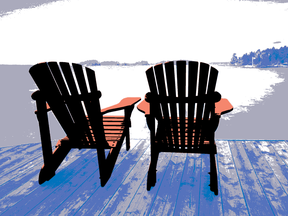 Forecasts are for another hot summer in the market for getaway homes.
Royal LePage, the real estate brokerage firm, predicts the national aggregate price for a home away for home will rise 13 per cent in 2022 from last year, to $647,710 for a single family unit, as demand continues to outstrip supply.
"The factors challenging Canada's residential real estate market — chronic low supply and growing demand — are amplified in the recreational property segment," said Phil Soper, president and CEO of Royal LePage.
Royal LePage conducted an online survey of 151 brokers and sales representatives to gauge how the cottage country real estate season will unfold.
According to the survey, 84 per cent said there are fewer properties for sale than last year. Further, 50 per cent said there was "significantly" fewer units on the market.
Across the country, Quebec and Atlantic Canada are predicted to experience the largest increases in recreational property prices at 15 per cent. Prices in Ontario and British Columbia are forecast to rise 13 per cent and 12 per cent from 2021, respectively.
As with much in real estate today, the frenzied pace of buying can be sourced back to the pandemic, which sent many Canadians rushing to find more space for their families. Also, remote work has unchained many from cities, making a rural home base possible.
Demographics also continue to apply upward pressure to prices.
Last year, Royal LePage's survey suggested that more than half of baby boomers who were considering changing their primary residence were contemplating a rural property, potentially resulting in "1.8 million Canadians having entered the recreational real-estate market within the five year period."
If 2022 is expected to be hot, 2021 was a scorcher.
In that selling season, the aggregate price nationally for a single-family recreational property rose 26.6 per cent from 2020 to $567,000; a single-family waterfront property leapt 21.5 per cent to $976,000; a condominium, 15.4 per cent to $374,000.
In Ontario in 2021, the family recreational property market rose 34.6 per cent, the highest year-over-year aggregate price increase, according to Royal LePage.
Here is how the Royal LePage survey forecasts prices to break down by region:
Atlantic Canada
Prices, on an aggregate basis, are expected to increase 15 per cent to $272,550 for a single family home compared with a 2021 year-over-year increase of 24.1 per cent. In 2021, the price of coveted family waterfront properties rose 39.3 per cent to $333,000.
Quebec
The aggregate price for a recreational getaway is forecast to jump 15 per cent in 2022 to $356,500, down from a 24.5 per cent increase the previous year. Prices then stood at $310,000 for a family residence.
The province has adopted some of the characteristics associated with hot markets such as Ontario and B.C. Multiple bids are now typical, noted broker Eric Léger, with winning offers coming in over the asking price, something, Léger said, was not a feature of the Quebec recreational property scene prior to the pandemic.
Ontario
With some of the country's most sought-after cottaging regions, such as the Muskokas, aggregate prices in the province are expected to rise 13 per cent to $737,890, compared with $653,000 in 2021. That figure was based on a massive 34.6 per cent increase from 2020.
"Prior to the pandemic, an entry-level property in Muskoka would have cost about $400,000. Today, the same property would not go for less than six-to seven-hundred thousand, and you won't find many listings like this today. Inventory is at an all-time low," said John O'Rourke, a broker for Royal LePage Lakes of Muskoka.
Alberta
According to the survey, a single family nature retreat will set a buyer back $1,170,660, based on aggregate prices, in 2022, up nine per cent from 2021. Last year, prices rose 31.5 per cent year-over-year to $1,074,000, compared with 2020.
Among the reasons for such a hefty price tag, the survey cites the Canmore region close to Banff National Park as playing a significant role in the market.
British Columbia
Aggregate prices are expected to break through the $1 million mark in 2022 for a single family recreational retreat, rising 12 per cent to $1,029,280. Last year, the aggregate price rose 22.4 per cent from 2020 to $919,000.
"Demand continues to outstrip supply in the Okanagans, as the desire for more space and access to outdoors remains a top priority for many Canadians, especially those who choose to vacation within the country," said Francis Braam, a broker for Royal LePage Kelowna.